Identity theft is against the law
And you can use the law to stay protected
Lex OnTrack is a breakthrough service built to combat thieves and keep your identity right where you want it—with you.
Identity thieves are deceptively clever, utilizing backdoor tactics to take advantage of your personal information. They'll open new accounts in your name, steal your existing accounts and even drain your investment accounts if they can. Worse yet, these thieves will sell your information, meaning that it could be years before any fraud shows up.
When you sign up with Lex OnTrack, you gain access to the most powerful identity protection system available. Beyond just monitoring for unusual behavior, we actively help you repair your past and prepare for your future. Identity theft can cost you more than just some money and as our name implies, we aim to help you get your entire life back OnTrack.
OnTrack is a top-tier security option to protect you from potential fraud and unauthorized purchases. We'll monitor your information 24 hours a day, seven days a week, 365 days a year, and alert you of any suspicious activity.
Even if your identity is stolen, OnTrack has you covered. Our Identity Theft Insurance covers you up to $25,00. We'll focus on getting your finances in order, so you can focus on what's important.
Beyond just your identity, protecting and understanding your credit report is a key feature of OnTrack. With monthly FICO Score® updates and credit monitoring, you can feel confident knowing where you stand and how to get to a better place.
When you need help, we're ready to provide it. You can give our US-based experts a call at any time, whether you are concerned about the safety of your sensitive information, or just want to learn more about the products we offer.
Part of protecting your future is planning your future. That's why OnTrack offers financial tools that give you a 360-degree view of your transactional information. We'll help you stay on top of your monthly cash flow and navigate your financial goals with our innovative, online tools.
Even after you've recovered from identity theft, you can be left dealing with inaccurate negative items that hurt your credit report. OnTrack gives you the bundled strength of both identity protection and basic credit repair, meaning we can help you prevent and remove those questionable negative items.
OnTrack utilizes the full power of Lexington Law, including our experienced attorneys and paralegals. Armed with various consumer protection laws, our legal team can help you resolve problems in the fastest and most effective way possible.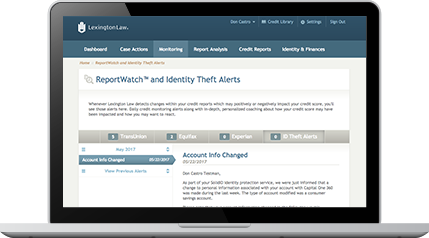 Let's say I sign up, then what?
After you've given us some personal information and we've got you registered for advanced protection, the next step is to stop worrying. We'll do the heavy lifting, analyzing your credit identity to find areas that need repair, while monitoring your identity and alerting you to any suspicious activity.
Sign up has never been easier
What if my identity is stolen?
Unlike other companies that can only help you settle court cases and reimburse costs, Lex OnTrack takes your identity protection to the next level with credit repair. We'll work with you to ensure you have an accurate and fair credit report.
What if I want to cancel?
Providing the best service possible is a top priority at Lexington Law, and if we aren't meeting your expectations, you can cancel at any time.